Bradley senior middle blocker Lindsay Stalzer and Illinois State freshman setter Erin Lindsey are this week's State Farm Missouri Valley Conference Volleyball Player and Freshman of the Week, respectively.
Stalzer earned all-tournament honors after averaging 5.73 kills, 1.33 blocks and 1.53 digs per game as the Braves went 3-1 in the Radisson Hotel Invitational. Lindsey had 173 assists in 11 games (15.73 per game), 22 digs, six blocks and five service aces on her way to all-tournament honors at the Pepsi/Nike Challenge.
Player of the Week
---
Lindsay Stalzer, Bradley
Lindsay Stalzer earned all-tournament honors for the third consecutive weekend, helping Bradley to a second place finish and a 3-1 record at the Radisson Hotel Invitational in Peoria, Ill.
The senior middle blocker averaged 5.73 kills, 1.33 blocks and 1.53 digs per game as the Braves went 3-1 in tourney action. She had three outings with 20 or more kills and posted her third double-double of the year with 12 kills and a season-high 29 kills in the Braves win against Southeast Missouri State.
The Kewanee, Ill., native also averaged 0.33 aces per game and climbed into fourth place on Bradley's career kills and blocks list.
Freshman of the Week
---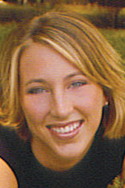 Erin Lindsey
Erin Lindsey, Illinois State
Erin Lindsey had a stellar week from her setter's position for Illinois State at the Pepsi/Nike Challenge in Ann Arbor, Mich.
In the first match of the weekend against Cleveland State, she posted 58 assists, seven digs and three kills. Versus Akron, she had 50 assists as the Redbirds totaled their fifth-best single-match hitting percentage in school history of .485. The St. Louis, Mo., product was perfect on the attack with six kills (6-0-6, 1.000). She also added seven digs and a pair of blocks in the winning effort. In the final match of the weekend against Michigan, she had 65 assists with eight digs and four service aces.
For the weekend, Lindsey had 173 assists in 11 games (15.73 per game), 22 digs, six blocks and five service aces while hitting 11-1-22 (.455) with 1.0 kills per game, as team averaged 18.82 kills per game.
MVC News & Notes
---
League Play To Open This Weekend
Missouri Valley Conference play begins this week as Evansville travels to Southern Illinois Tuesday evening. On Friday night, Bradley will play at Creighton, UNI ventures to Drake, Illinois State and Wichita State do battle and Indiana State faces Missouri State. On Saturday, Bradley is at Drake, Missouri State entertains Illinois State, Wichita State hosts Indiana State and UNI plays at Creighton.
Will The Streak Continue?
The last 11 years, the regular-season champion of the Missouri Valley Conference has not lost more than one conference match. Wichita State extended the league's streak with its 17-1 ledger last season.
Tournament Success
Missouri Valley Conference volleyball teams had success in early-season tournaments en route to placing 28 players on all-tournament teams. Creighton won the team title at San Diego State University with a 3-0 ledger as Leah Ratzlaff garnered Most Valuable Player honors. Illinois State posted a perfect 3-0 mark at home on its way to a second-straight Barker GMC Classic title. Laura Doornbos earned MVP accolades for the Redbirds.
Packing Them In
Four Missouri Valley Conference teams rank among the top-19 in the country in home attendance. Illinois State is fifth with an average of 2,084, while UNI is sixth (2,052), Wichita State is 14th (1,304) and Missouri State is 17th (1,086)
MVC Team Notes
---
Bradley
---
Valley Openers
Bradley looks to start a new win streak in Valley openers when the Braves head to Omaha, Neb., to face Creighton in the MVC opener for both squads Friday. Northern Iowa ended the Braves three-match win streak in conference openers last season in Cedar Falls, Iowa. Bradley is 14-8 all-time in conference openers, which includes a 4-3 mark under head coach Scott Luster. The Braves are 6-5 when opening conference action on the road.
Stalzer Now Fourth In Kills
Lindsay Stalzer slipped past Abigail Kohnen on Bradley's career kills list last week and will likely move into second place all-time this week. Stalzer passed Kohnen's career total of 1,343 kills with a 29-kill effort against Southeast Missouri State and now has 1,392 career kills heading into Monday's home match against Butler. Stalzer is just the 10th player in Missouri Valley Conference history and second in program history to record 1,200 career kills before the end of their junior season and is currently tied for 28th in Valley history in kills.
Stalzer & DeBroux Take Home Honors
Lindsay Stalzer and Amber DeBroux both earned all-tournament honors at the Radisson Hotel Invitational this weekend, helping Bradley to a 3-1 record. Stalzer averaged 5.73 kills, 1.33 blocks and 0.33 aces per game in the four matches, while DeBroux tallied averages of 2.20 kills, 2.00 digs and 1.00 blocks per game while hitting .348.
Creighton
---
Thrive In Five
With Sunday's victory over Marquette, Creighton improved to 10-1 in five-game matches under third-year coach Kirsten Bernthal Booth. That ranks as the nation's best among teams with 10 or more five-game matches in that time. In each of Creighton's last five matches to go the distance, the Jays trailed 2-1 in the match before winning both game four and game five.
Balanced Attack
Heading into last weekend, it had been nearly five years since Creighton had four different players finish with 15 or more kills in a match. Then at the Colorado Invitational last weekend, the Jays did it twice. Freshman Jessica Houts, sophomores Abby Baumann and Kelly Goc and senior Leah Ratzlaff all had 15 kills or more in matches against both Colorado and Marquette.
Streak Finally Ends
Creighton senior Leah Ratzlaff had her streak of 58 straight matches with 10 or more kills snapped vs. Stanford on Sept. 10th. The streak, which was the longest active one of its kind in the country, came to an end when the Wichita native was held to eight put-a-ways by the defending national champions.
Drake
---
All-Tourney Honors
Megan Veltman became the first player this season to earn all-tournament honors for the Bulldogs as she was named to the Valparaiso Popcorn Classic All-Tournament team. Veltman averaged a team-best 2.73 kills, while hitting at a .212 clip. She also averaged 0.64 blocks.
Getting Funky With It
Betsy Funk had a solid all-around weekend for Drake at the Valparaiso Popcorn Classic. Funk averaged 7.36 assists, 1.36 kills, 2.09 digs and 0.91 blocks, while hitting at a .256 clip.
Can You Dig It?
Drake had five players reach double digits in digs against Valparaiso, while several players recorded career or season bests in that category. Beth Kranske recorded a career-high 21 digs, while Liz McNulty tallied a career-high 18 digs. Lindsey Johnson collected a season-high 17, while Eve Johnson recorded a season-high 14.
Evansville
---
So Close Versus The Ducks
UE got out to an early 2-0 lead on the PAC-10 foe Oregon, 7-1 at the time of the match, this past weekend at the Portland State Crowne Plaza Showcase. The Aces eventually fell to the Ducks in five games 32-30, 30-26, 24-30, 27-30, 5-15.
Checking The Calendar
Evansville opens the conference season this Tuesday when it travels to Southern Illinois. After the first conference match, the Aces have two more weeks before they take on another conference opponent.
Home Sweet Home
Evansville will finally be at home this weekend after 10 matches on the road. UE will host the Aces Invitational Presented by Dunn Hospitality. The tournament brings in Tennessee Tech, Lipscomb and IUPUI.
Illinois State
---
One For The Book
Just 364 days after Illinois State set the Redbird record for hitting percentage in a match (9/11/04 vs. South Florida), the 'Birds hit .485 (No. 5 in school history) while pounding Akron for 63 kills in a three-game match—21 in each game. Setter Erin Lindsey converted all six of her attempts to hit 1.000 while recording over 16 assists per game for the match.
Erin's Not Errin'
In seven games and two matches on Friday (9/9), setter Erin Lindsey called her own number 11 times and registered nine kills without an error, hitting .818. For the tournament, Lindsey was 11-1-22 for a .455 percentage.
Kabbes Joins Elite Group
Middle blocker Emily Kabbes became the fifth player in Illinois State history to record 350 career block assists in game three against Akron. Those ahead of her on the ISU list include her sister, Jenny Kabbes Fuente, now a Redbird assistant coach.
Indiana State
---
Fish Honored At Marriott Flyer
Tera Fish was named to the Marriott Flyer All-Invitational team after she recorded double-doubles in all three matches. Fish began the tourney with 39 assists and 10 digs against Mississippi State, before she posted 11 kills and 37 assists against Dayton and finished off the weekend with 26 assists and 10 digs against Virginia. Fish had an excellent weekend overall averaging 1.7 kills, 8.5 assists, 1.2 digs and 0.7 blocks.
Going Dig Crazy
Kristy Cox tallied 26 digs against Eastern Illinois, marking the third most digs in a three-game match in ISU history and the 18th highest total overall. Cox finished the week averaging 5.93 digs per game and increased her season dig total to a MVC-leading 166.
Havoc In The Middle
Middle blockers Tessa Wolf and Christy Trame created some havoc at the Dayton Invitational this weekend as they each recorded double-digit kill totals in all three matches. In addition, they led ISU to some impressive blocking totals as the Sycamores averaged 9.3 blocks per match, with Trame leading the way with 24 blocks, including a career-high eight against Dayton.
Missouri State
---
300 And Counting
Missouri State head coach Melissa Stokes will coach the 300th game of her career on Friday night when the Bears face Indiana State at Hammons Student Center. She is also on the verge of claiming win #200. Stokes is 198-101 in her career as a college head coach and she would reach the 200 mark if the Bears could defeat Indiana State and Illinois State on Friday and Saturday, respectively.
No Cupcakes On This Schedule
The Bears have faced one of the toughest schedules in the conference during the early part of the season, and have fared well, going 4-5. Missouri State has faced two opponents each from the Big 12 and SEC conferences. The Bears have split matches with each conference, falling to Kansas State and defeating Iowa State of the Big 12, and defeating Arkansas, while dropping a match to Florida of the SEC. MSU has also faced teams from the Sun Belt, Ohio Valley, Big West, Atlantic 10 and Mountain West.
Up, Up And Away
Senior Katie Werges flew up the Missouri State career kills chart this weekend, with 54 total kills and a 4.91 kills-per-game average in the three matches. Werges entered the weekend ranked 20th all-time in MSU history, and moved all the way up to 15th place with 915 career kills. Ashley Warren also made her way up the MSU career charts, going from ninth place on the assists chart to seventh, with a total of 2,100 assists. She had 168 assists on the weekend.
UNI
---
Bring On Those Five-Gamers
UNI is 2-0 in five-game matches this season, and 23-4 over the past eight seasons in five-gamers.
Keeping Them Down
The Panthers held Toledo to .000 hitting (36-36-129) in the sweep of the Rockets on Saturday. That was the second-lowest hitting percentage by a UNI opponent this season (UIC, -.033, Aug. 27). None of UNI's three opponents at the UW-Milwaukee tournament hit better than .200 as a team.
Rowen & Brazda Earn Honor
Laura Rowen and Danielle Brazda were named to the UW-Milwaukee All-Tournament team. Rowen averaged a team-best 3.73 kills, to go along with 2.27 digs over the three-match tournament. Brazda posted 2.73 kills and 2.18 blocks during the three-match weekend.
Southern Illinois
---
Washington Named to All-Tournament Team
Marissa Washington was named to the 26th Saluki Invitational All-Tournament team for the second-straight year after leading the Salukis (1-4) in kills (21) and hitting (.395) percentage in two matches over the weekend. She posted a season-high 13 kills in a 3-2 loss to Missouri-Kansas City Friday. She hit .522 on the night (13 kills, 1 error, 23 attacks). Saturday afternoon she came back post eight kills, four block assists and three digs along with a .250 hitting percentage (8 kills, 3 errors, 20 attempts). She averaged 2.62 kills per game, 1.00 block per game and a .395 hitting percentage over weekend. She also added three assists and one assist on the tournament. Her season percentage (.395) ranks third in the MVC this season. Washington's career hitting percentage (.285) ranks fifth all-time at SIU.
Pulliam Records Saluki Season-High
Jene' Pulliam posted a team season-high 16 kills in a 3-2 loss to UMKC Friday in the 26th Saluki Invitational. The junior added five kills and a block assist, while hitting .317 in the match. Saturday she recorded four kills, four digs and a block assist in a Saluki loss, 3-0, to Arkansas State. She was second on the team over the weekend, posting 20 kills for the tournament, averaging 2.50 per game. Pulliam is currently second on the team this season, averaging 2.76 kills per game. She is hitting .240 with 1.24 digs per game.
Wichita State
---
Fans Come For Home Opener
The Shockers opened the home portion of their schedule on Sept. 8 against Virginia Commonwealth. A crowd of 1,304 attended the match, the best opening match attendance ever at WSU and a tie for the seventh highest match attendance in school history.
Banner-Day For The Shockers
In their home opener on Sept. 8, the Shockers unveiled three new banners in Charles Koch Arena. The three banners unveiled were the 2004 MVC regular-season championship banner, the 2004 MVC Tournament championship banner and an NCAA Tournament second round banner.
Meyers Moves Up Block List
With her seven block assists against Virginia Commonwealth on Sept. 8, Elizabeth Meyers moved into second place in the Shocker record books in career block assists with 360. Former Shocker Kristin Carr holds the record of 419. Meyers is also third in total blocks with 399.